This piece originally appeared in the Toronto Star.
"We are going to be there for you," was the message Tonya Surman and the Centre for Social Innovation (CSI) received when the pandemic first hit, and she was faced with the prospect of closing her doors for the first time ever, to the hundreds of organizations that count on CSI.
On the other end of the line was the CEO of Vancity Community Investment Bank (VCIB), Jay-Ann Gilfoy, who called to see how she could help keep CSI running and serving its members as the reality of COVID-19 sunk in. A year later, Surman — the CEO of CSI — credits VCIB, a subsidiary of Vancity Credit Union, for helping her navigate the tumultuous waters of operating a business during a pandemic.
CSI plays an important role within the world of innovative non-profits and social enterprises in Toronto. It provides shared workspaces, programming and education, as well as networking and mentoring to more than 900 social-purpose organizations. In short, CSI works with organizations passionate about changing the world for the better. Which is why it was more important than ever to stay strong during the pandemic.
When it comes to non-profits and charities, the cards are often already stacked against them, says Surman. When she first launched in 2004, she couldn't even find a bank that would open an account for her. "The leadership from one of the Big Five banks told me point blank, 'We don't want to foreclose on a charity, it would be terrible PR.' And that's the truth. They don't know who we are, how we operate, all they perceive is that we look risky."
But VCIB has supported CSI from the beginning, says Surman. They not only understand the non-profit sector, but have made it a mandate to support social enterprises in ways other financial institutions don't. For Surman, that promise didn't stop when COVID-19 ground businesses to a halt last March.
"Here we are, we have two mortgages with VCIB on our buildings, the pandemic hits, and we have to close our doors to flatten the curve," says Surman. "All of a sudden, 9 per cent of our members have closed up shop permanently. I'm scared. VCIB, in the face of this global pandemic calls (and asks): 'Tonya, how are you doing? Are you okay? What can we do to help you and CSI get through this?'"
"We work (together) on a new financial relationship, which then enables me to create a community rent pool and offer it to our hundreds of member organizations. We've been able to continue to offer services to our members (in ways) we wouldn't have been able to if VCIB hadn't been there. Not foreclosing on us, but checking in and actively problem solving with us!"
"That's partnership," says Surman. "This pandemic has proven VCIB has our back, and I could not be more grateful."
Trish Nixon, VCIB's managing director of Commercial Impact Banking, says helping partners find solutions to remain operational during the pandemic was a priority, given their mandate as a values-based bank whose aim is to empower organizations that exist to drive positive change.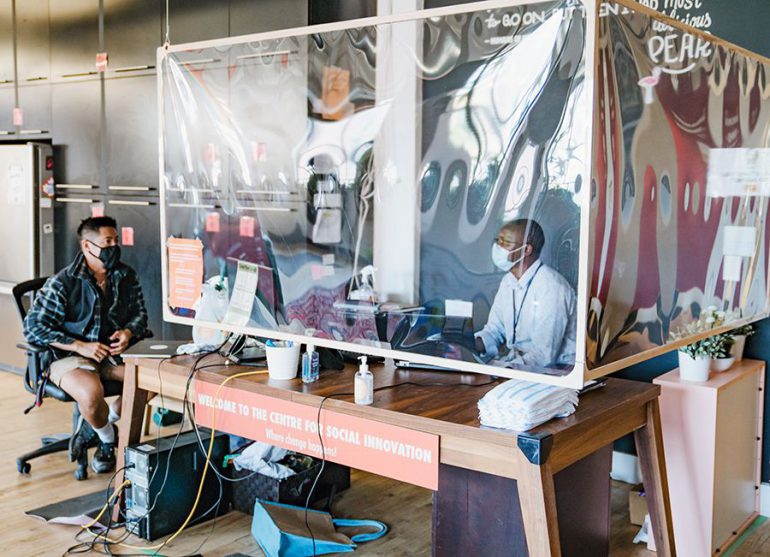 "Non-profits and social enterprises are by design and definition purpose-driven. We intentionally focus on understanding and financing these organizations because there's a very clear path to us meeting our own impact objectives," says Nixon.
Even outside of the pandemic context, these organizations often face difficulties accessing capital and financial services. And not just the big-ticket items like mortgages, but day-to-day products like credit cards and lines of credit too. By designing solutions that meet the needs of charities and non-profits, as well as purpose-driven businesses, VCIB is addressing a market that is often underserved by financial institutions.
"There's a ripple effect when organizations with shared values and goals work together," Nixon says. "CSI is a great example of that. They support so many other social enterprises and are exactly the kind of partner we want to help fuel, whether that's through mortgage financing for their buildings or operating accounts and credit cards. By supporting them, we're also supporting all of the changemakers they serve."
For her part, Surman says she is eternally grateful for the partnership VCIB has provided to CSI, and by extension, all the organizations CSI supports.
"We're building the next economy," she says. "Especially now, with COVID, there's a recognition that we need an economy that actually puts people and planet first. It's going to take leaders that can craft the really meaningful solutions. To be walking side-by-side with other leaders who have the same vision to make a better world … I'm just really proud. It makes me really grateful to have the privilege to serve with so many extraordinary people."
Learn more about VCIB's impact financing in our Business Banking page. If interested in chatting with VCIB about your financing needs, get in touch.
Disclaimer: The information provided herein is intended for informational purposes only and is not intended to constitute investment, financial, legal, accounting, tax, or other advice and should not be relied upon for such purpose. Always consult a professional regarding your specific needs and circumstances. Customer results may vary. The customer endorsements that appear on this page were solicited by VCIB.