Marc Soberano isn't easily stressed out. The thirty-year old Executive Director of Building Up is known for his easy-going style. Despite overseeing a business with revenues of $5M per year, he is loath to put on a suit; preferring instead to sport a Building Up t-shirt, khaki pants, and Blundstone boots. On an average day, he meets with funders, developers, and program trainees alike — people from different walks of life — who get the same warmth and affable banter.
But in January 2019, Soberano was out of sorts.
Building Up, the construction social enterprise that he founded five years earlier, was thriving. Orders were steadily filing in for renovation, retrofit and construction jobs; the enterprises' pre-apprenticeship training program participants were getting valuable work; and the business was poised for growth.
But in the construction sector, accounts receivables can kill a business. And Building Up was on the ropes.
"We had just completed a ton of big projects and payment was taking a long time to come in," said Soberano. "We needed to do our next big projects and invest in those. But we didn't have the money from the ones we'd just completed. We were never concerned about being able to get the money, but until we had it, we couldn't get started on the new work. There were times when we weren't sure if we could make payroll."
With projects lined up, Soberano approached Vancity Community Investment Bank (VCIB), seeking a $250,000 operating line of credit to help improve Building Up's cash flow. With its emphasis on supporting businesses and projects that drive positive change, VCIB was keen to help the Toronto-based social enterprise to grow.
"[With VCIB, there was] a good understanding of what we're doing and why," said Soberano. "I always felt like the team valued the organization more than a traditional bank would. And they've been very supportive and flexible since we got the funds."
With the line of credit secured, Building Up has had a safety net to support growth — and grow the enterprise has. Since accessing the line of credit, Soberano estimates that Building Up has expanded by 50%, allowing the social enterprise to double the number of pre-apprenticeship trainees they work with.
It's based on this experience that Soberano suggests that a line of credit from a values-based bank could be a good fit for social enterprises seeking to "make an impact aggressively" and for those that are "confident that investing in themselves will lead to financial stability."
Driving Impact through Employment Inclusion
Building Up positions itself as Toronto's social contractor, a full-service general contracting firm that exists to provide training and employment for people having a tough time getting into the trades.
Their trainees are folks like Dameon* (whose name has been changed to respect the participant's privacy), a thoughtful and passionate young Black man. Prior to Building Up, he was struggling. Dameon was unemployed and on Ontario Works, experiencing suicidality and depression. At a career fair, he met a member of Building Up's program team and decided to apply for the program.
He was accepted and during the 16-week pre-apprenticeship training he was introduced to the fundamentals of construction. Surrounded by a cohort of peers and skilled trainers, Dameon learned to construct and tear down drywall, the ins and outs of electrical work, and rudimentary plumbing. Through the process, he discovered a passion for carpentry.
At graduation, Dameon was welcomed into a local carpenter's union as an apprentice. And even during the COVID-19 pandemic, he's had stable, well-paying construction work. Dameon's mental health has improved, he's had better housing security, and he's saving to purchase a home.
Soberano explains how something as innocuous as a line of credit has helped folks like Dameon.
"A lot of vulnerable people rely on Building Up. Not just for training, but also for a pay cheque. [The line of credit] is a safety net that's allowed us to take risks and invest in ourselves based on the financial health of the organization."
Since working with VCIB, Building Up has leveraged their financial cushion to acquire a 5,000 sq. foot training centre, bought several company vehicles, and added core management staff, including a Director of Case Management and an additional social worker — roles that help to drive impact.
And it shows. The social enterprise now supports over 100 trainees per year. At the start of the program, all were experiencing unemployment or underemployment, 47% were experiencing mental health challenges, and 33% had been in conflict with the law. With support of the program, eighty percent of participants graduate into construction careers with an average post-program salary of $51,000 — a 79% increase from pre-program earnings, on average.
"With our growth, we sometimes have 100 people on payroll. That means we could be paying over $150,000 in payroll every two weeks," Soberano said.
With the support of the line of credit from VCIB, "Now, it's nice not to be so stressed every two weeks when payroll comes around!"
"It allows us to focus on the work, rather than on the money behind it," he said.
Improving Business Relationships Through Increased Flexibility
The line of credit from VCIB has also supported Building Up to strengthen its relationships with business partners.
For one, it's expanded the scope of potential customers who are able to take advantage of Building Up's energy efficiency retrofit services, by allowing the enterprise to offer flexible payment plans.
Prior to working with VCIB, Building Up would require customers to pay a portion of the total project cost up-front, providing the social enterprise with the necessary working capital to purchase inventory for the project.
Soberano describes the impact of the line of credit in his dealings with a customer seeking a $250,000 retrofit job: "We wanted to offer them the retrofit at no upfront cost, and they'd pay over time through the savings. But we weren't able to offer those kinds of payment terms. This meant we weren't able to get our people working and training, and also that we couldn't get started on saving thousands' worth of litres of water [that would be saved by the retrofit]."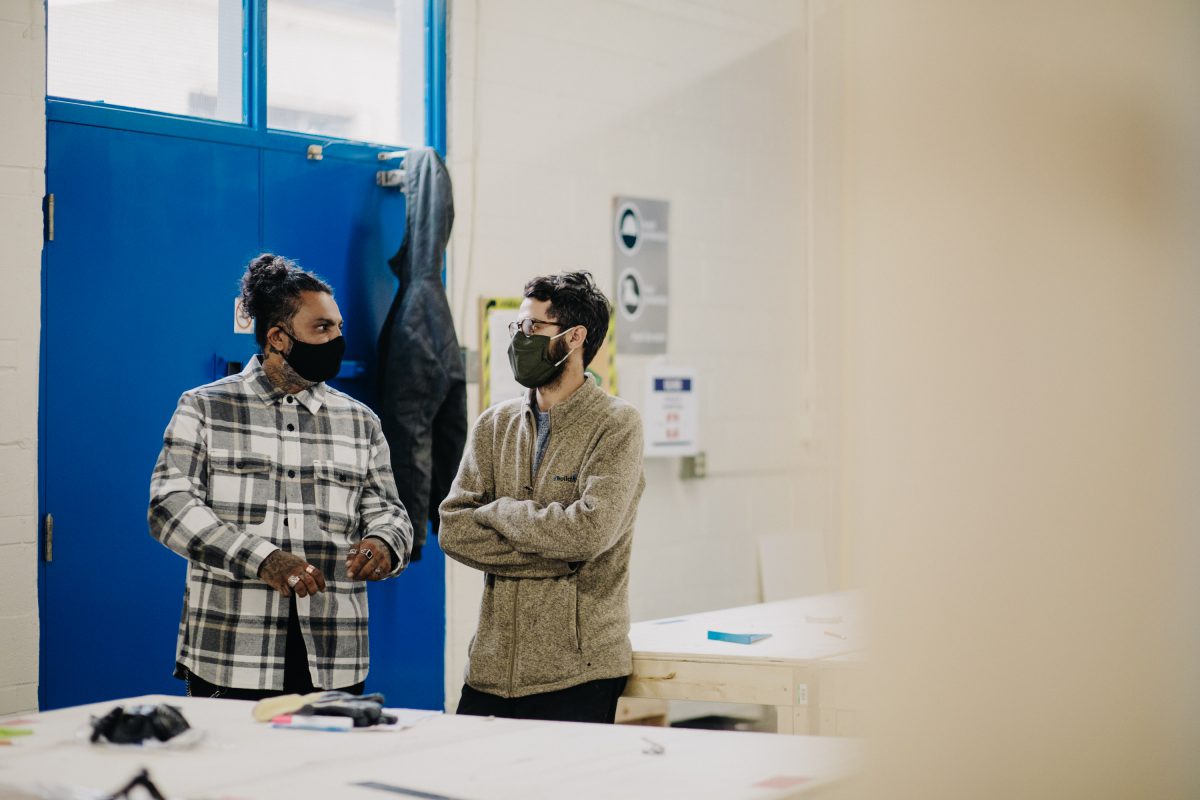 But, once the organization secured the line of credit, this became possible, and the work got started. "We wouldn't have been able to get that work if it weren't for this."
Further, the line of credit has offered flexibility. In the construction industry, many of Building Up's potential customers are large organizations with slow-moving accounts payable departments.
"[The line of credit has] allowed us to be more patient with some of our bigger customers that we might otherwise have had to be more aggressive with, and potentially jeopardize the relationship," Soberano said.
This year, the COVID-19 pandemic has challenged the business, like many others. But leveraging the strength of the organization's team, its network of business partners, and its supportive financial institutions, it's holding strong.
—
The information provided herein is intended for informational purposes only and is not intended to constitute investment, financial, legal, accounting, tax, or other advice and should not be relied upon for such purpose. Always consult a professional regarding your specific needs and circumstances.  Customer results may vary.  The customer endorsements that appear on this page were solicited by VCIB.